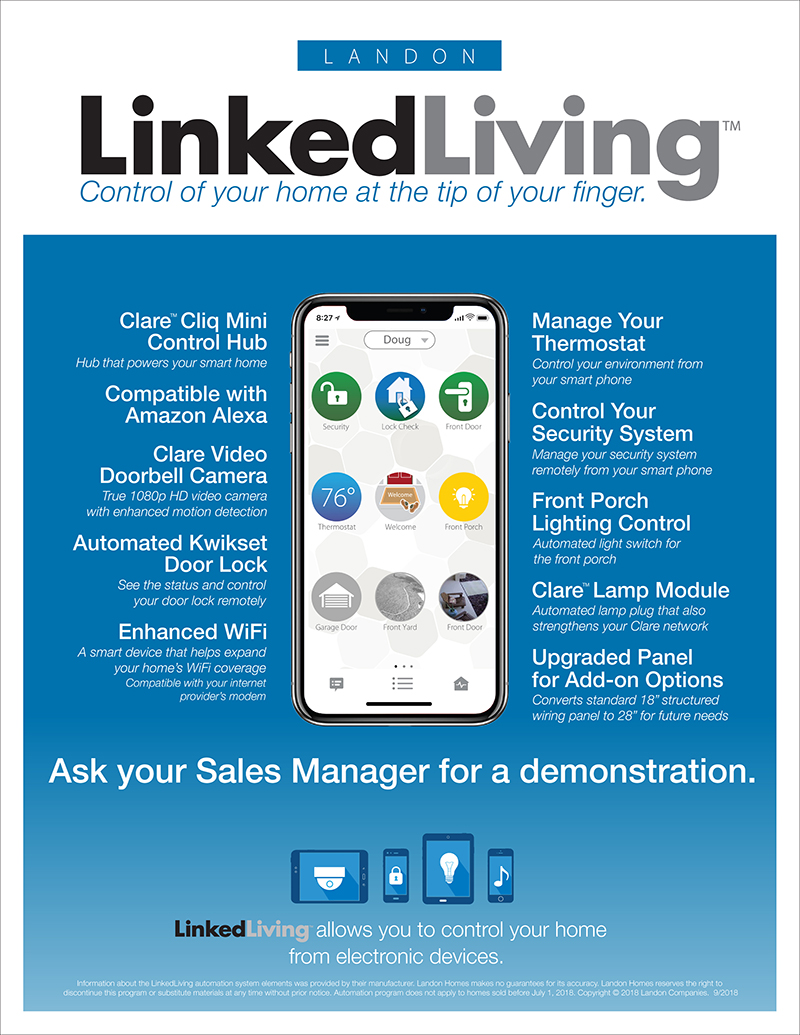 Now Available Landon Homes Automated Home App
Landon's brand new homes in Frisco can now be equipped with the award-winning ClareHome app to monitor and control all aspects of smart home technology. The app allows homeowners to coordinate the smart features of their homes remotely from an easy-to-use mobile app.
App users will be able to manage their home's security, heating and cooling, lighting and more from anywhere in the world. Settings can be programmed in advance or adjusted on the go. Users can also monitor what's happening at home while they're away.
Features controlled by the app include:
Clare video doorbell camera. See and talk to visitors even when you aren't home. The camera records video when motion is detected. It's easy to install and is compatible with iOS and Android.
Automated Kwikset door lock. Check whether the door is locked or not, and change the status remotely as needed.
Smart thermostat. Warm or cool the house before you get home. Manage your home's temperature to increase comfort and reduce energy usage and utility bills.
Security system. Check to see whether the system is armed and if doors are closed and locked. Receive notifications of suspicious activity. The app works with both wireless and wired security systems.
Video home monitoring. They system uses HD 1080p live video for sharp image recording. The app can receive information from both indoor and outdoor cameras. Receive alerts when movement is detected.
Enhanced WiFi. This feature increases WiFi coverage at home.
One of the most exciting aspects of the app is the ability to create "scenes" that adjust your home's smart features to suit specific situations. For example, you can set a summer evening party scene that will turn on the outdoor lights, start the music playing and warm the pool–all with the touch of one button.

The ClareHome app is compatible with more than 1,800 home automation products including security, video monitoring, smart thermostats, lighting, automated window shades, music and surround sound, door locks and gates, television, pool and spa functions and Amazon Alexa.

A Landon Homes sales manager can demonstrate the app and explain the smart home features available. Call Landon Homes today at 866-898-3603 to tour smart new homes in Frisco.

Tags: frisco ISD new homes, New Homes in Frisco